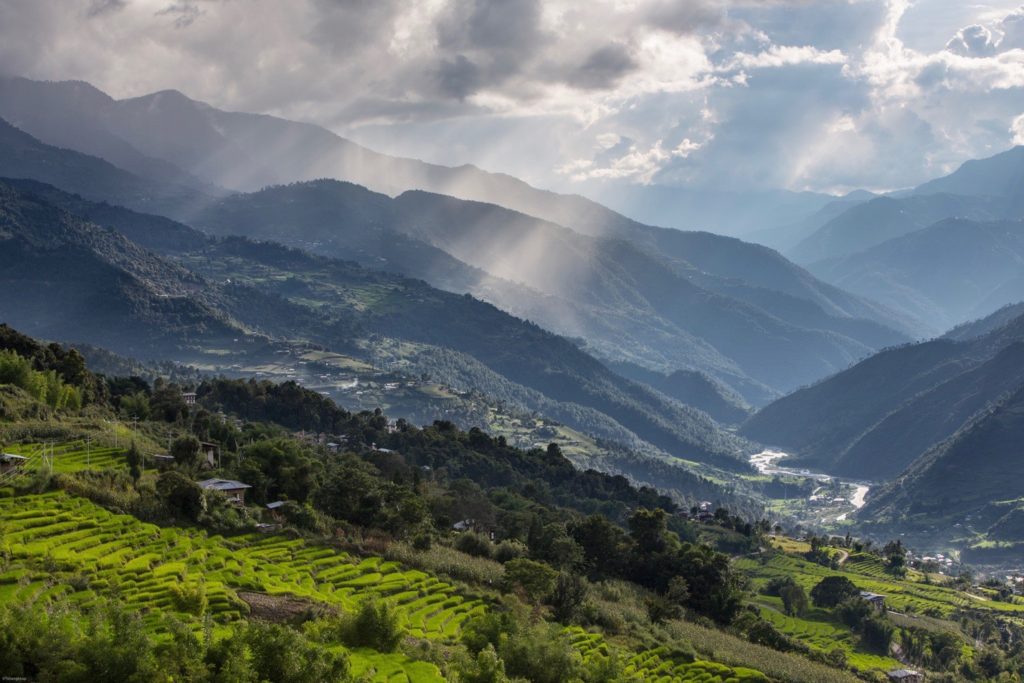 Bhutan is beautiful. All buildings conform to traditional architecture and design. Their attention to beauty is meticul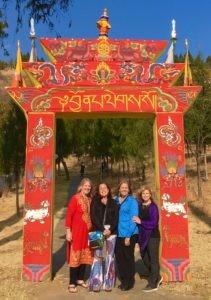 ous. There is very little plastic or metal, all design aspects are intricately carved from wood and painted. The airport in Paro is the most beautiful I've seen.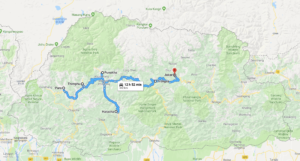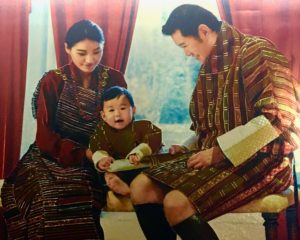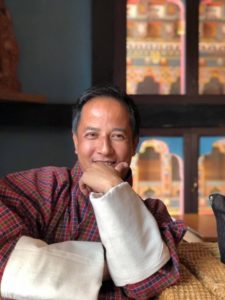 The king, his family, and the Buddha are much revered, their images everywhere.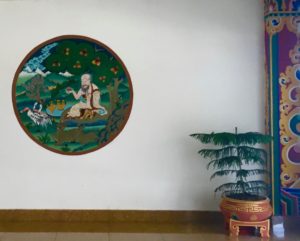 We are met by Namgay, our guide for our ten-day exploration of Bhutan. His company is
Illuminating Tours
 and we heartily recommend them. 
The four 'partners in crime' unite at lunch to begin our basking in Bhutanese beauty. We begin our love affair with Bhutanese cuisine, specifically, Ema Datshi, a soupy condiment made from chilis and cheese that is present at every meal. Like much local cuisine, it is very spicy and not for the faint of heart.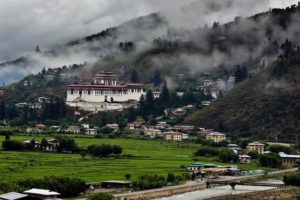 Paro, located on the traditional Tibetan-Bhutanese trade route, is home to the National Museum and a large dzong, built in 1645.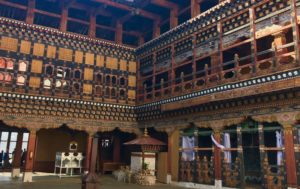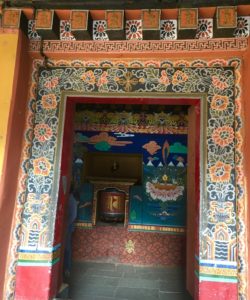 Dzongs were traditionally built as fortresses and now have split uses for government administration and for Buddhist monastic practice.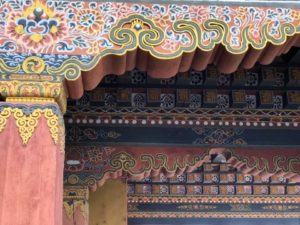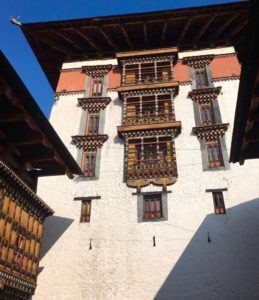 Very large, in scale, dzong architecture reflects the detailed, carved and painted elements (built without nails) that will soon become so familiar to us.
Namgay regales us with Bhutanese Buddhist parables depicted in the omnipresent religious murals, not the least of which is the story of the "4 friends." These harmonious characters… an elephant, a monkey, a hare and a bird… embody the spirit of cooperation as well as symbolize four terrestrial habitats… ground, trees, underground, and sky. The bird seeds the tree, the hare protects and nurtures the roots, the elephant provides might and height, and the monkey provides agility to reach the fruit.
Of course, prayer wheels are present everywhere.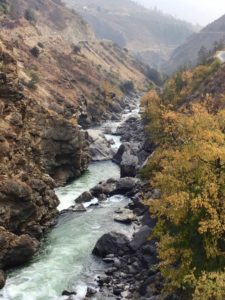 We drive to Thimpu, the capital. Images of the beloved royal family are everywhere, as are polite admonishments to take pride in country and heritage. As Buddhists, Bhutanese honor all sentient beings and their home with respect and compassion. There is no litter anywhere.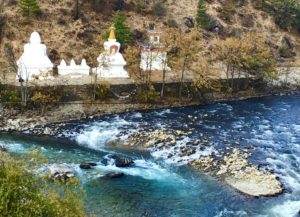 Lots and lots of new construction in Thimpu and Paro. Even the large blocks of condominiums have traditional design elements.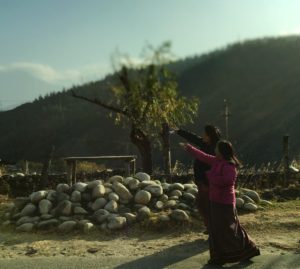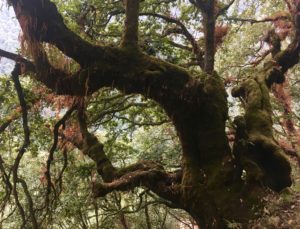 We had a lovel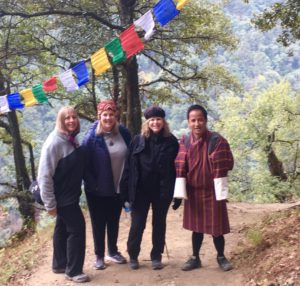 y hike through the forest up to the Cheri Goempa monastery (under restoration)…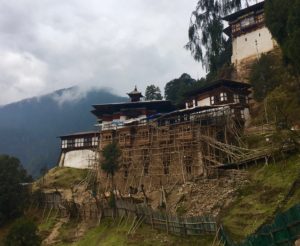 … and an even lovelier lunch (we earned it) by the river when we got back down.
Bhutan is 72% virgin forest and the king has decreed that it can never fall below 60%.
Fertility is sacred, the penis is revered, and shows up in the darnedest places.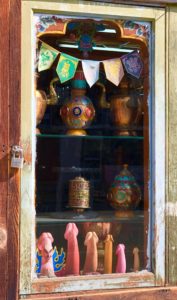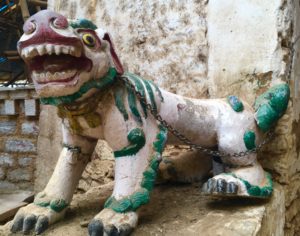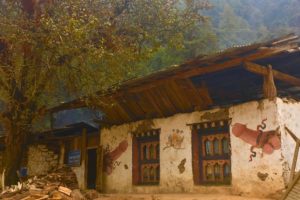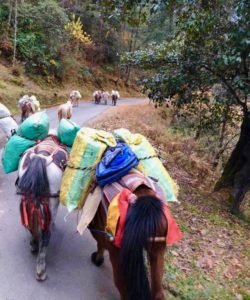 Traffic is sometimes interesting.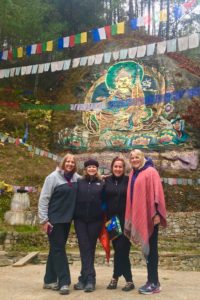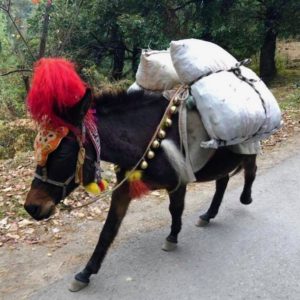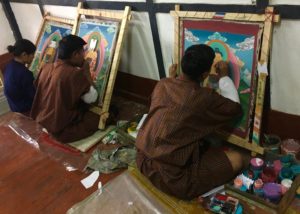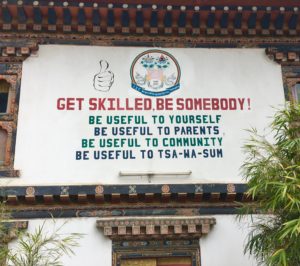 We visited the National Art Institute where the government sponsors the training of skilled artisans in carving, sculpture, painting, and textiles. This method of painting holy 'Thangkas' dates to ancient Tibet.
We then visited the textile museum which is almost as beautiful as the textiles themselves. Bhutanese weaving and beadwork is exquisite.

The truly awesome Golden Buddha (a stunning 177 ft high) is perched above Thimpu and houses an even more extraordinary temple beneath and inside it.  Unfortunately, photos are forbidden inside most temples. Trust me, if you go to Bhutan, you do not want to miss this.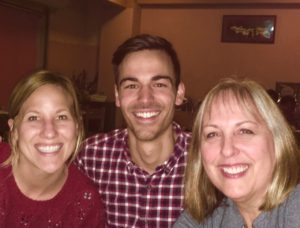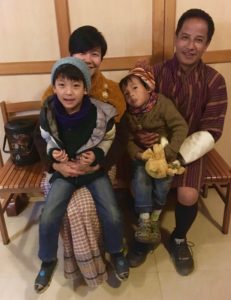 JJ casually mentioned  someone her daughter had grown up with was living in Thimpu with his wife.  Namgay took us to dinner at his sister's restaurant with his wife and children and had arranged for a surprise reunion with JJ's friend (coincidentally, he is a teacher at Namgay's sons' school.) This devotion to our enjoyment is one of the many reasons we love Namgay and feel his company (www.illuminatingtoursbhutan.com) is the best to use if you want to make this trip of a lifetime. How can you not love this family?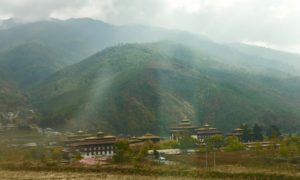 To visit Bhutan, you need to obtain a visa and make all arrangements through an official tour company, who provides all lodging, meals, entrance fees, and transportation, including the services of a guide and a driver. All this for the price of $250/day. Considering the quality of what is provided (at least with Namgay's company), the extent of what is provided, and the way the government spends its 30% share of the proceeds, it is worth every penny! I've visited over 50 countries and Bhutan is the most amazing and delightful of them all.
Before leaving Thimpu, we visited the Takin preserve. Takins are  a native mammal that seems like a cross between a buffalo and a goat.  The Takins were elusive but we got to see Goral antelope up close.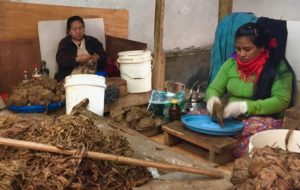 One of our trip's highlights was a visit to a paper factory where we saw every step to the process of
making exquisitely beautiful hand-crafted paper products from local vegetation.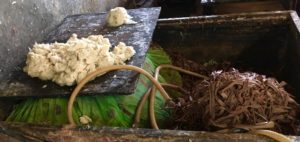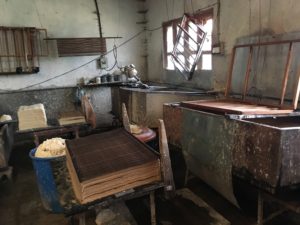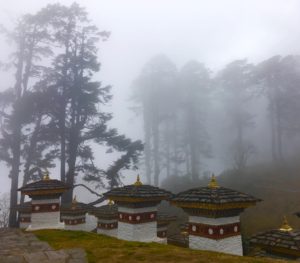 Traveling further east, we pass through the clouds of Doche La Pass, where the queen mother built 108 stupas to commemorate the heroic and bloodless exploits of her husband in routing terrorists. The south was infiltrated by Indian terrorists from Assam that would go and attack in India then seek refuge in Bhutan. King #4 asked them to leave and they refused. So he personally led the army there, surprised them during dinner, minimizing casualties, and flushed them out and back to India. For his personal integrity and bravery, his wife, the queen mother, erected the stupas.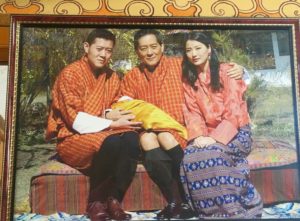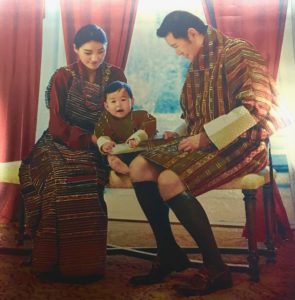 Part of what makes Bhutan so extraordinary is the well-deserved and absolute adoration of the royal family. King #3 initiated land reform in the 1950s. His son,  King #4, the one who coined the phrase"gross national happiness" as a way to measure his success as a king, voluntarily converted the absolute monarchy to a constitutional monarchy with the establishment of a democratically-elected Parliament to give his beloved people more of a say in their governing. At the same time, he abdicated his throne to his son (#5, the current king) so that he could serve as an advisor to his rule. #5 has made it a priority to continue the land reform of started by his grandfather and has conducted a survey of land ownership, redistributing government –owned land to villages that don't have their proportionate share of privately owned land. They are much beloved and wander neighborhoods freely (no "secret service" required) to mingle with the people.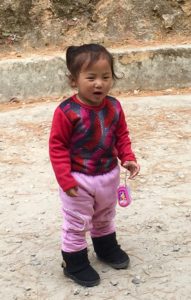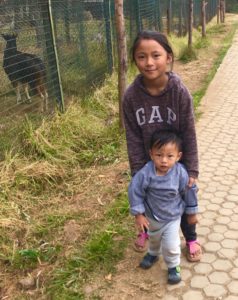 The people are consistently and uniquely the nicest civilization I've ever come across.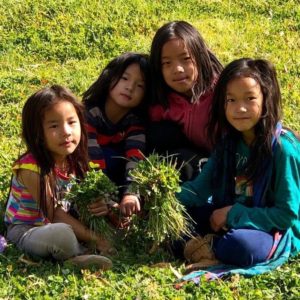 The countryside is plastered with what we would consider propaganda signs but they are friendly and positive, urging people to do the right thing, clean up around them, and take care of the environment. In stark contrast to Nepal, there is no litter anywhere. I accidentally dropped a piece of paper and a Bhutanese was immediately there to whisk it to the trash bin.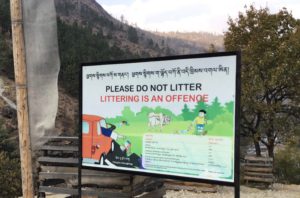 Their anti-drug messages, rather than taking a totalitarian tone, urge people to take care of and pride in themselves and provide support to people who need help. Although the standard is for multi-generational families to live together and take care of each other, the current queen started a beautiful nursing home where those without family can age in dignity with a high quality of care, on the government's dime. No one is homeless or goes hungry. Never mind Tibet (especially since the Chinese occupation), I am convinced Bhutan is ShangriLa.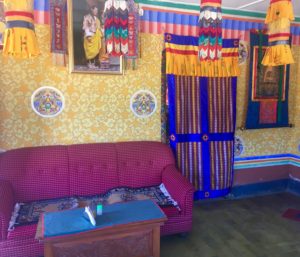 While in transit, we either stop for lunch at
beautiful roadside restaurants or sometimes
are treated to lunch, or tea by the side of the road.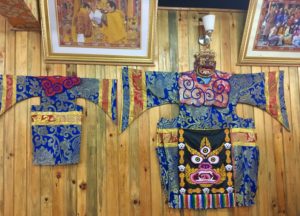 In Punakha, we visited the dzong, built 1637 and located at the confluence of the male and female rivers) and stayed the night in yet another lovely hotel.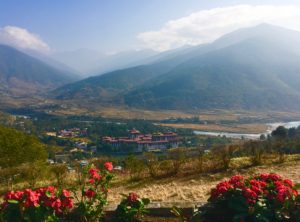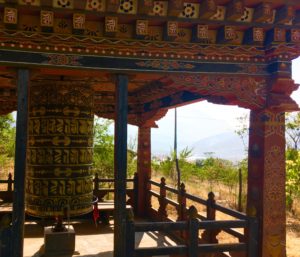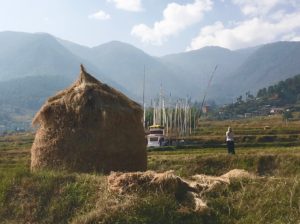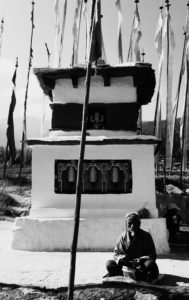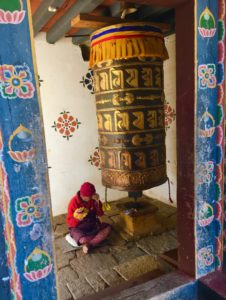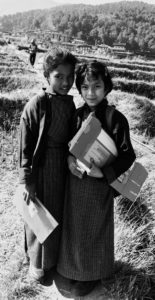 We visited the temple of the Divine Madman, Lam Drukpa Kuenley, a colorful historical monk who came from Tibet and spread Buddhism throughout the population and is known for using imagery of the phallus to subdue demons and bless the people of Bhutan.
So, once again, penises and puppies everywhere as we wandered through villages and rice paddies.
Off to Pojibkha, the nesting grounds of the endangered migratory black-necked cranes.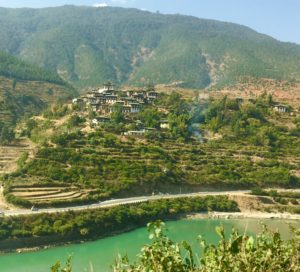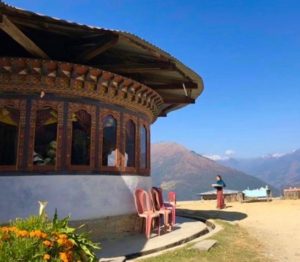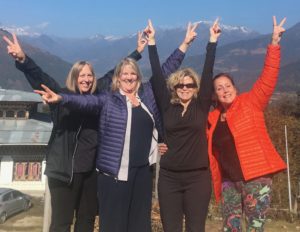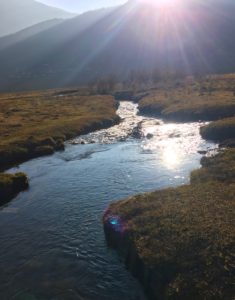 Another mountain pass yielded spectacular views  and we participated in a peaceful perambulation through Pojibkha valley.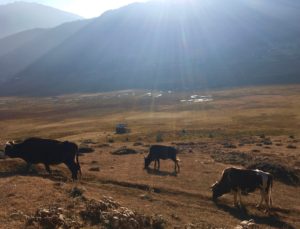 We stayed at our most basic accommodation yet…     no internet and the rooms were heated at night by woodstoves… and it was positively charming.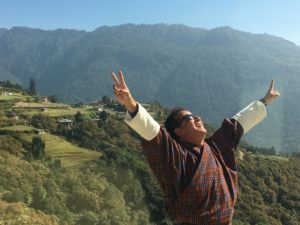 The next day was one of my favorites because Namgay took us to Tshangkha, the beautiful village he grew up in, and filled our fancy with tales from his childhood.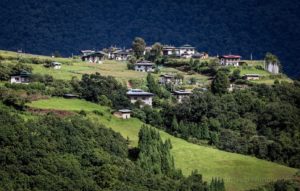 There are 25 households and they are all involved in farming. They cultivate a variety of crops including rice, potatoes, cabbage, grains, and maize. They sell cheese, butter, potatoes, and other vegetables. Electricity arrived here only recently. (TV came to Bhutan in general in 1998, and cell phones and internet arrived in 2002.)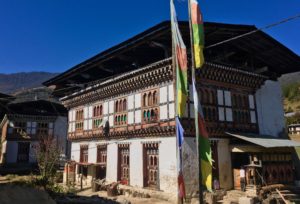 Some villagers still practice the Bon religion, which is similar to animism and pre-dates Buddhism as the main religion. They assume big mountains, trees, river, cliffs, and lakes to be the places where the deities reside. He grew up outside the village and would go play with his friends in the village until dark. He'd have to run home and would be so scared the demons would get him. His mom, knowing that, would come out on the deck to greet him. Rather than admonish him, she would call out the mantra to scare the evil spirits away and protect him. "Om mani padni hom…" "Louder, please," he'd cry as he raced by the shadows into her waiting arms.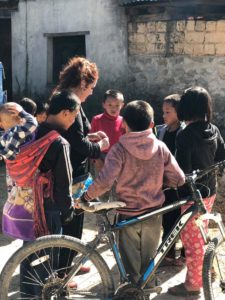 I had brought toys to give the children, including little keyring flashlights. These were the favorites here as I explained they could use them to keep the demons away while they walked home in the dark. Hahahaa, their eyes got huge… they loved it! The children, being the compassionate Buddhists they are, were worried when their friend, a beautiful boy taking care of his little brother, showed up and I was all out of gifts. I could see them suffering because they loved their little flashlights but they were so concerned that he didn't get one. Luckily, I remembered that I had my own little flashlight attached to my purse so I gave him the best one and everyone was happy.
We once again had a delightful tea on the side of the road. Namgay is pictured here with Supee, our driver, who was another beloved component of our magical adventure.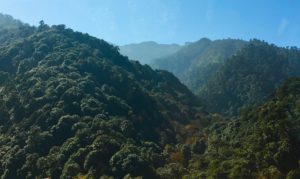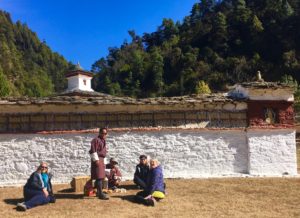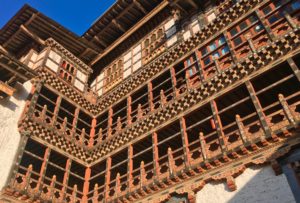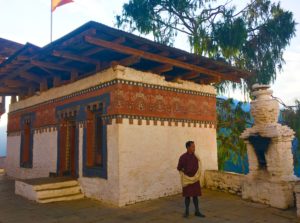 In Trongsa, we visited the museum and the Trongsa dzong, where the first two kings ruled from.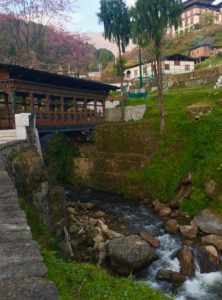 Monks practiced dances for the next day's holy festival.
Yakkity yaks don't talk back.
We stayed at yet another lovely hotel.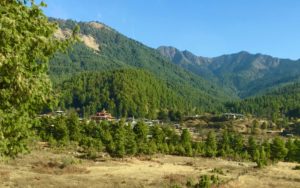 We made our way to the weaving region of Bumthang, driving over the Black mountains' Yotong La pass into the Bumthang valley.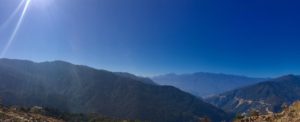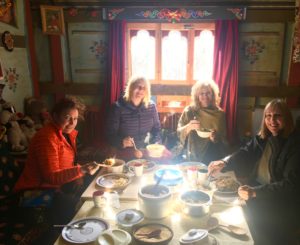 Lunch in a farm house was super special as we were welcomed into the home of a farmer's family and served in their living room.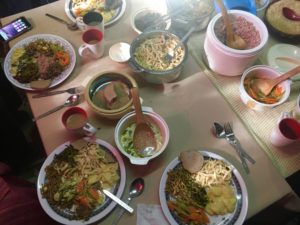 We walked across a river to Kurjey Lhakhang temple, which houses the sacred imprint of Guru Rinpoche meditating.
   Encountered wild cannabis and bees.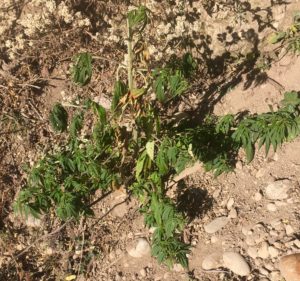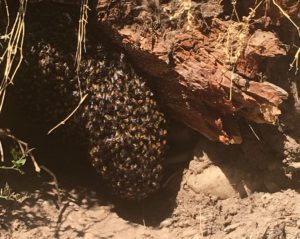 More beautiful temples and the ubiquitous dogs.  When I landed in Bhutan, I visited a grocery store, bought a bag of dog food, and kept my pockets filled. So, wherever, I went, there were many that loved me. : )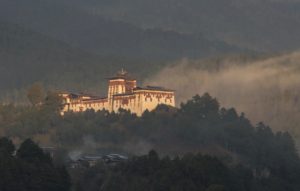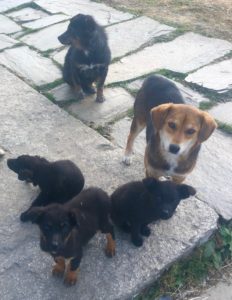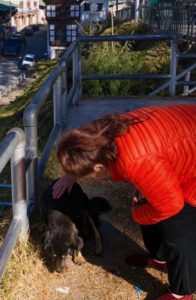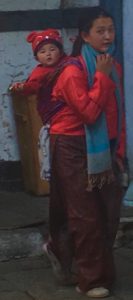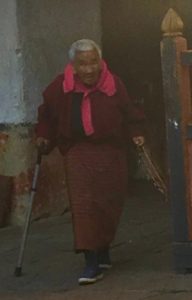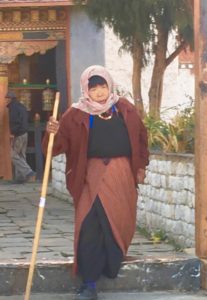 Children sitting in a field taking exams.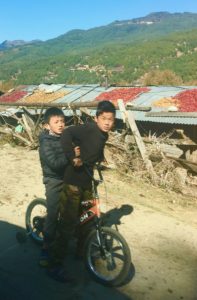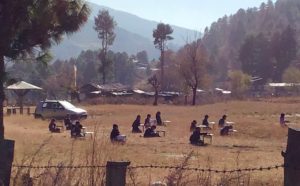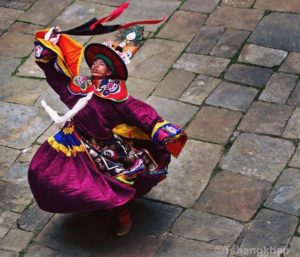 The next day brought something we had been anxiously anticipating… a small local religious festival. Bhutan has many and they are worth scheduling your trip around.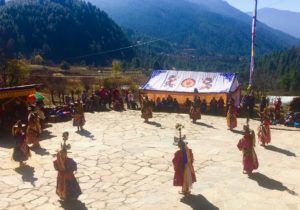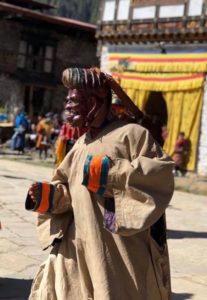 In addition to sacred costumes and dances, we were treated to gambling (I won!), archery (the national sport), darts, and traditional carnival food.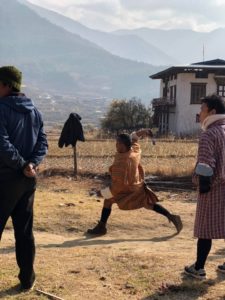 Participation was a wonderful window into local culture.  What can I say? I'm a sucker for the children, old people, and monks.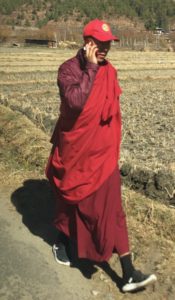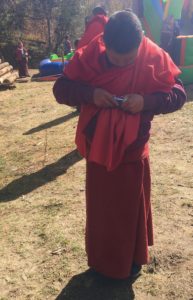 Although the sight of a young monk "loading" his toy gun threw me off a bit, as did the monk walking down the road chatting on his cell phone. 
I had also brought reading glasses as gifts for older people. They were a big hit… I will bet that this lovely character sleeps in his, he loved them so much.
Another roadside picnic lunch, shopping, and walking the 'hood rounded out our day.  Even condos and semis are cool.
The next day, we visited Ogyencholing Palace, a historic "manor" that operated under the feudal system, which was abolished by the third king as part of his land reform. It has been preserved as a museum and it was a fascinating glimpse of preserved history.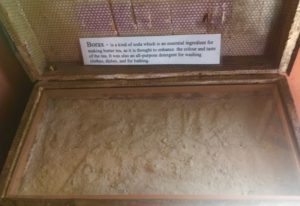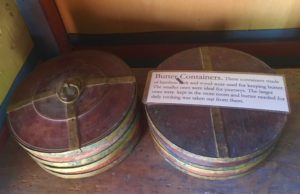 We then visited a nunnery and more temples.
We flew back to Paro, where we began our journey, having traveled east by land. Now to gear up for the cherry on this dessert… hiking to Tiger's Nest monastery.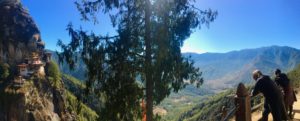 As a child, I had seen a photo of this iconic monastery, perched on a sheer cliffside, and had vowed that I would visit someday. That dream was sidelined when, in 2012, I lost the use of my legs and one arm, was told I wouldn't walk again, and that I would be dead within weeks. Hah! I showed them! It took me 6 hours round trip, but I did it (thank goodness for my ipod shuffle and our intrepid guides who helped me… look at them… sweet AND handsome)!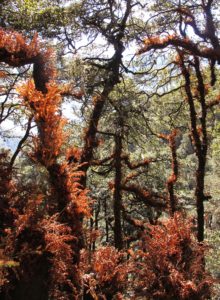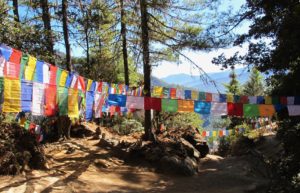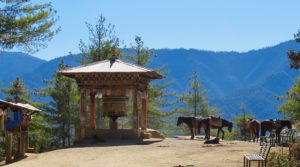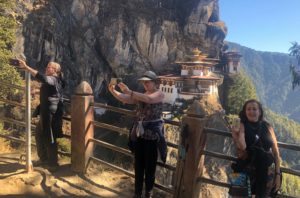 We were all so proud of our sassy selves… Namgay captured us all taking selfies… hahahaa.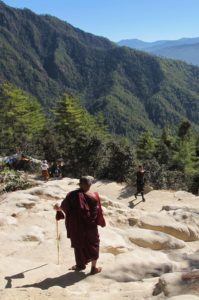 I'm going to live until I die!
Mind you, I sorely needed the hot stone bath afterwards. It is with great sadness, that we bid Bhutan bye-bye…