The value of a walk down Memory Lane…
A diagnosis of Stage 4 forces us to confront our mortality, ponder the meaning of life, and wonder how we ended up on this journey. While it didn't provide any answers, my summer sojourn down memory lane gave me a long-view perspective of my life to date. I am so very grateful to have reconnected with so many who played important roles in my life. The beginning, the middle, the end… is love.
40th High School Reunion (wherein I experience the shocking realization that I am old)
My first stop was southern Idaho for my first 40-year high school reunion. I didn't graduate from this high school but I grew up with these kids from age 10-16. Those are pretty formative years and I have a lot of fond memories and affection for this crowd. Facebook had already reunited many of us and I am so grateful for the love and support I received while I fought the cancer demon down.
Boise (wherein I act the hobbit and have two breakfasts)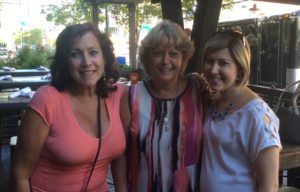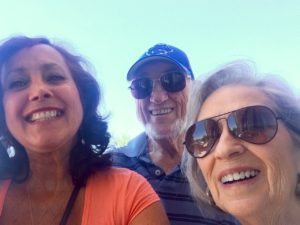 One of my dear friends has a relative who has virtually the same diagnosis as I (Stage 4 metastatic breast cancer). I had the pleasure of meeting this mighty warrior queen with her loving mother-in-law for breakfast. I wanted to give her lots of support and any info she might want but she is doing all the right things and seems to be handling it all so well. Join me in praying for and supporting Amy as she walks this difficult road we know so well. Then, I got to take my beloved surrogate parents out for breakfast. They are aging as gracefully as we all can hope to. I am so very grateful to them for all the love they have given me throughout my life.
McCall (wherein I bask in the beauty of a mountain lake with my bestie)
So many things this woman has taught me… from the early age of 12. Look at her surf… she's my age! She taught me how to love unabashedly and to suck as much joy out of every moment that one can. I am so grateful to have her and her sister and husband in my life.
Missoula (wherein I pretend I am in my twenties again)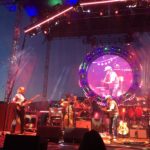 First I get to take my darling niece out for cocktails. Then I get to raft the river with my nephew and his adorable girlfriend and friends. Then we all get to enjoy the String Cheese Incident in concert. Nothing like hanging with the young to feel young. I love these people and am so grateful to be able to enjoy these things!
Live until you die, am I right?! Can I get an Amen?
Coeur d'Alene (wherein I reunite with 4 generations of cousins in a stunning historic lakefront manor)
I have to start with these two photos because they showcase 4 generations of beauty and grace as well as a grandpa who is completely besotted with his great-granddaughter. For the most part, I hadn't seen most of these people in 40 years and just met the others. Why, oh why, did I wait so long? I feel such gratitude for the opportunity to reunite with long-lost loved ones and meet the new additions.
All these people are cousins… two first cousins, two first cousins once removed, two first cousins twice removed, and one first cousin thrice removed! Oh, and then their partners joined us… 18 for dinner!
This lovely family compound was built over 100 years ago! So much love and history within these walls
There's life in the old girl yet! I'm talking about me paddle boarding, but I really am saluting cousin Bette, all 4'9″ of her. She is a two-time cancer survivor herself, in her 80s, is a hospice volunteer to give back for her survival, and has been my biggest cheerleader from the sidelines throughout my ordeal. I hadn't seen her since I was a kid but we developed a fond penpal bond and she hopped in her car and drove a day's drive when she heard I was going to be in town. She is my hero. Love that woman! I think she secretly sports a "Live until you die" tattoo.
My 2nd 40th year high school reunion (wherein the posse rides again!)
I went to two high schools, so I was blessed with two reunions, a week and 600 miles apart. Going to both of them was the impetus for this trip which turned into so much more. 4 of the 5 girls who hung out regularly got together for the first time in 40 years! We aren't getting older, we're getting better and I'm oh, so grateful for that!
Seattle, (wherein I see my family who nursed me back to health)
No Gratitude Tour is complete without visiting my sister and my son who cared for me when I couldn't care for myself. I will forever be grateful to all these people. Counting my blessings…
Save
Save
Save
Save
Save
Comments
comments