I'd heard about all the vintage American cars in Havana but I had no idea. There are thousands and they are EVERYWHERE… all over Cuba and they are immaculately maintained. (Click to enlarge).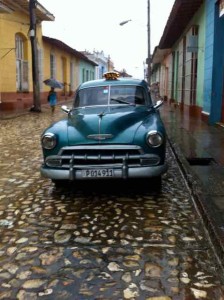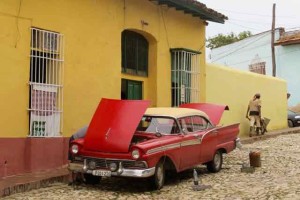 Before the Revolucion, when the U.S. puppet dictator Battista was in charge, Cuba was pretty much owned and run by American gangsters. Havana was a flashy place to ply your vices… gambling, prostitution, drinking, etc and flashy cars were all the rage. After the Revolucion, when the U.S. imposed the economic blockade, Cuba had a difficult time getting parts to service them over the last 50 years. So they have gotten creative… I passed a foundry of sorts where they create replacement parts by mimicking the original. These old beauties don't have a lot of electronic or plastic parts and work on pretty basic principals.
It seems strange to say this, but part of what makes Cuba so special is the result of the blockade. Unlike so many other developing countries, they had to rely on themselves and created their own industries. At a restaurant, I picked up the condiment bottles and read the labels… all were made in Cuba. In so many other countries that I have traveled in, they import everything and have few industries of their own. I hope that they don't lose their resourcefulness with the easing of economic relations with the U.S.
And these are just a fraction of the photos I took!
.
Comments
comments